The olive tree, Elia, is hugely symbolic, signifying friendship and peace, as well as being interwoven through the tales and myths of Ancient Greece. That's why olives are among the many trees that not only form natural boundaries for each of our private villas but also give a sense of the natural and mythological wonder of this part of northern Greece which lies in the shadow of Mt. Olympus.
A jewel along the Aegean coast of Pieria, the secluded destination we have cultivated is one of the finest for luxury villas in Greece. With the privacy of your own home away from home you can let yourself go in the surrounds of a modern villa with everything you could need for a holiday you'll never forget.
€ 200 - € 500
AVG / NIGHT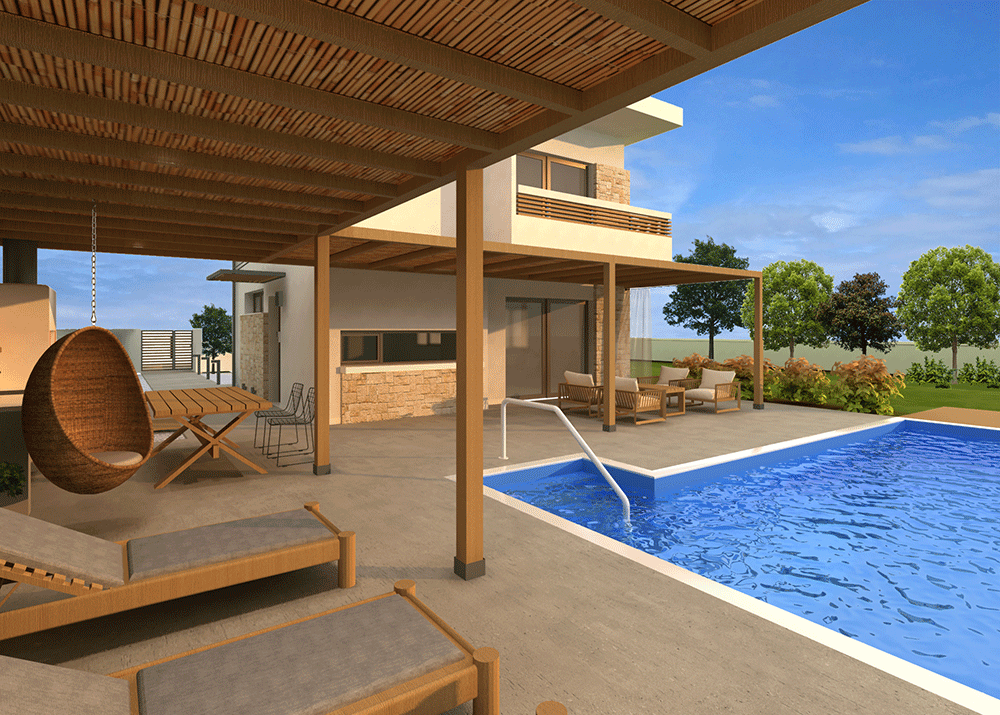 EXPLORE THE VILLA
EXTERIOR
This villa has a capacity for eight guests and with all the services and amenities you could desire to make it an excellent location for any get-together of family and friends.
Private pool 8x4m with maximum depth of 2.8m
Shaded dining areas with ample seating
Balcony for each room on 1st Floor
Stone-built barbecue
Private garden area of 800m2
Pool-side sunbeds
Hammocks
Adjustable sun umbrellas
INTERIOR
The stunning design and contemporary decoration creates an elite luxury experience in the heart of a traditional Greek setting.
Size: 150m2
Suitable for up to 8 people
Ground Floor: Living Room, Kitchen, WC, Fireplace
First Floor: 2 Bedrooms, 1 Bathroom
Basement: 2 Bedrooms, 1 Bathroom
Internal seating incl. couches, chairs and lounge
Modern kitchen with appliances and equipment
Personal Washing Machine
AMENITIES
Fully Equipped Kitchen (cutlery)
Cleaning Service is upon request with extra charge
BOOK ON LINE
Let us transport you to an elite world of privacy and luxury.